"CABOURG THE ROMANTIC ONE"
"... Les bonnes heures de Cabourg m'apparaissent comme une sorte de rêve". Marcel Proust
On the "Côte Fleurie", a few kilometres from Deauville and Trouville, Cabourg, the Proust city, is a place where you can come to seek the fresh air, to slacken you, but also to stroll...
LA RASPELIERE
Located in the heart of the city in a resting framework and a friendly atmosphere "Raspelière" guesthouse offers to you to spend, at a few minutes from the sea, one or more nights in independent rooms or suite.
Thanks to a recent restoration, the comfort of the rooms will ensure you a very pleasant stay. A lounge library as well as a pleasure garden are at your disposal.
If you requested it at the time of your reservation, an auxiliary bed, a highchair or a cot will be provided.

Breakfast is served from 8 to 10 a.m., in the breakfast room or the garden by good weather.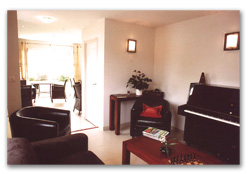 Internet - Free Wifi
WELLNESS MASSAGE by qualified practitioner on request 48 hours in advance: www.massagesbienetre.fr

4 stars : www.bedbreak.com
Les réservations peuvent être effectuées durant aux adresses suivantes :
colette.deletraz@wanadoo.fr
raspeliere@free.fr
Si vous le souhaitez, vous pouvez me laisser un n° de téléphone, je vous rappellerai.